TARGET 071212
Ithaa
Dining with the fish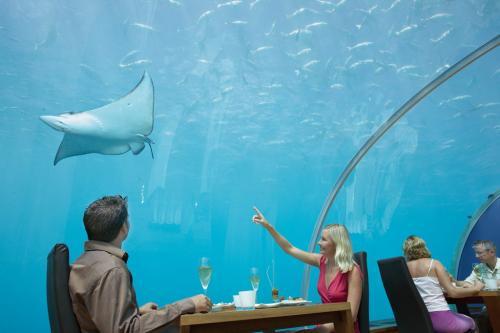 On April 15, 2007, Ithaa, the first all-glass undersea restaurant in the world opened its doors for business at the Hilton Maldives Resort & Spa on Rangali Island, in the Maldives. "Ithaa" is pronounced eet-ha. It means 'pearl' in Dhavehi, the language of the Maldives.

The restaurant sits five meters (about 18 feet) below the waves of the Indian Ocean, surrounded by a vibrant coral reef and encased in clear acrylic. It offers diners a 270-degree panoramic view of the ocean around them. underwater views.

"We have used aquarium technology to put diners face-to-face with the stunning underwater environment of the Maldives", says Carsten Schieck, General Manager of Hilton Maldives Resort & Spa. "Our guests always comment on being blown away by the colour, clarity, and beauty of the underwater world in the Maldives, so it seemed the perfect idea to build a restaurant where diners can experience fine cuisine and take time to enjoy the views – without ever getting their feet wet."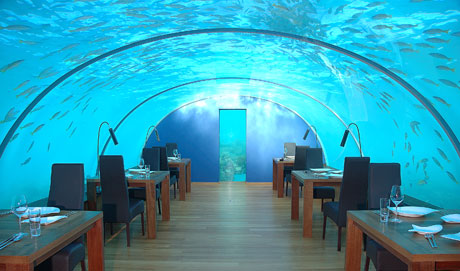 There is a coral garden on the reef to add to the spectacular views of the rays, sharks and many colourful fish that live around the reef near the restaurant."

The five-metre by nine-metre transparent arch, which spans the entire room, seats 14 people and provides a feeling of being completely at one with the underwater world while submerged beneath the surface of the ocean. Set with the resort's renowned house reef one side, and a clear lagoon on the other, diners enjoy their meal within Ithaa's translucent shell as the underwater drama unfolds on all sides.


Dining at night is another experience. During the day, you get to watch the fish as they swim by. But at night, the light of the restaurant attracts the fish, and you may have them watching you. Here, two large rays inspect the restaurant's fare.



The resort is located on Rangali, which is a pair of very small islands located 90 km west of Male, the main island of the Maldives. To get there, you land at the airport in Male, and then take a shuttle flight ($300 US) to Rangali. The resort has spacial winter rates, and since it is located to the south of India, the wintertime weather is not bad, at all. If you found more in your viewing and want feedback which is not provided here, you can contact The Hilton Maldives Resort at: Hiltin Rangali Resort & Spa, PO BOX 2034, Rangali Island, 2034, Maldives. Telephone: +960 668 0629 - Fax: +960 668 0619 - Email: maldives@hilton.com, or visit their web page by clicking here.


Many thanks to Ray McClure for providing this target.

FEEDBACK MAP