TARGET 070418

How to Park a Car in Germany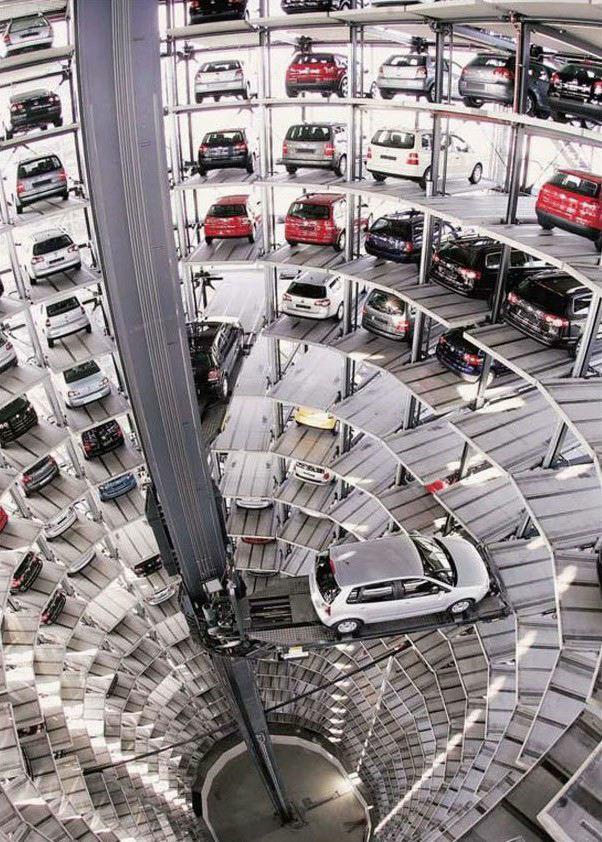 A Volkswagen Polo is loaded in the car towers of the VW Autostadt in Wolfsburg, northern Germany
The VW corporation's Car Storage Tower in Wolfsburg, Germany is a marvel of German ingenuity and design.

It is a part of the Autostadt (Car city) complex, situated next to Volkswagen's headquarters. The Autostadt acts as both the company's theme park and distribution centre where daily 5,500 visitors view Volkswagen brands like Bentley, Audi, Lamborghini.

The storage tower - and in fact, the whole Autostadt, looks like something out of a science-fiction movie, but it's real. The picture above was taken by AP photographer Fabian Bimmer. It appeared in SFGate.com's photo gallery on October 19, 2005.

The actual space that the facility occupies is approximately only 20% of a comparable facility with the traditional design that is used primarily in the US. Not only is the German structure less expensive to build, but vehicles are also "retrieved" in less time and without the potential of being damaged by an attendant. Collecting your new car is an event in itself. "In a fully automated procedure, your new car is brought down to you from one of the two 20-story Car Towers. Large signboards in the Customer Center show you when your turn has come. Then, you're handed the keys, your picture is taken, the glass doors open and your brand-new car appears. You're all set to go".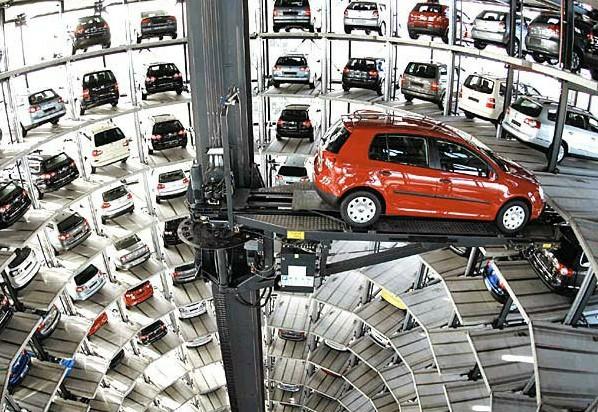 Someone's new car being downloaded to them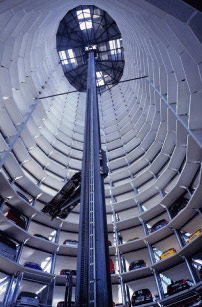 Looking up from the bottom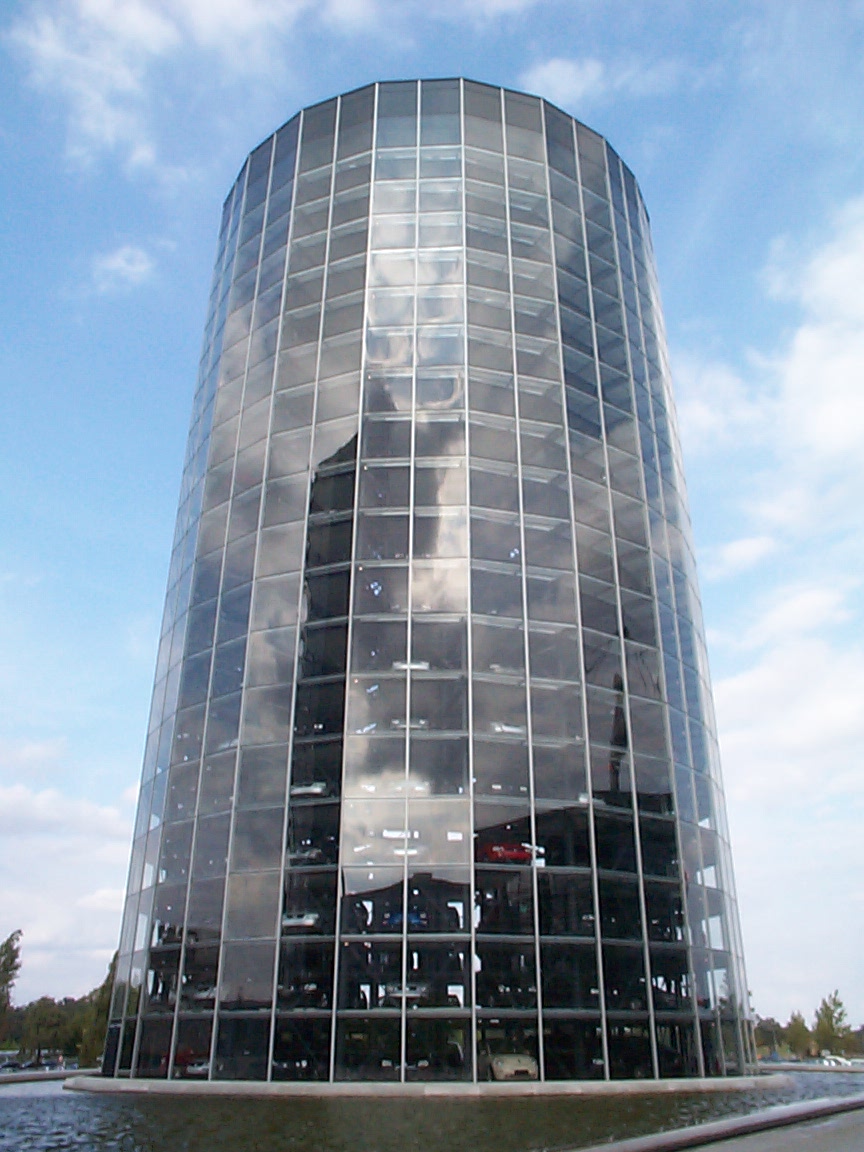 The tower looks impressive from the outside, as well.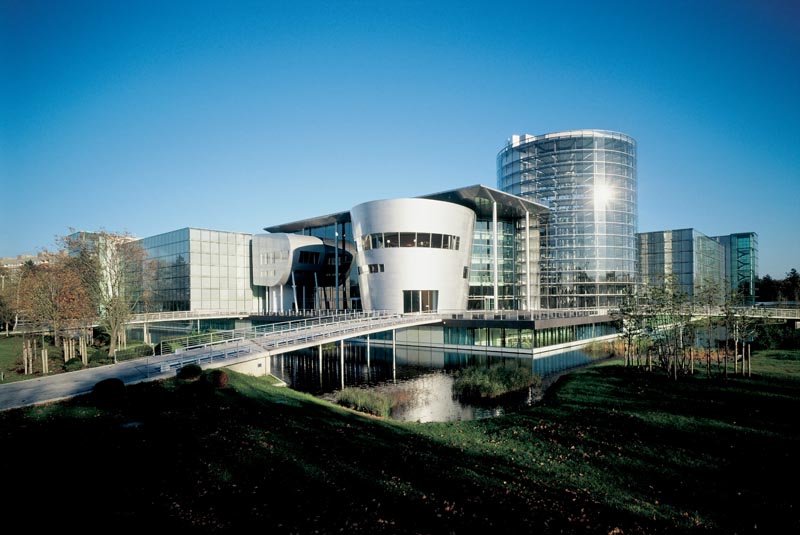 The Autostadt looks like something from a science fiction movie.
FEEDBACK MAP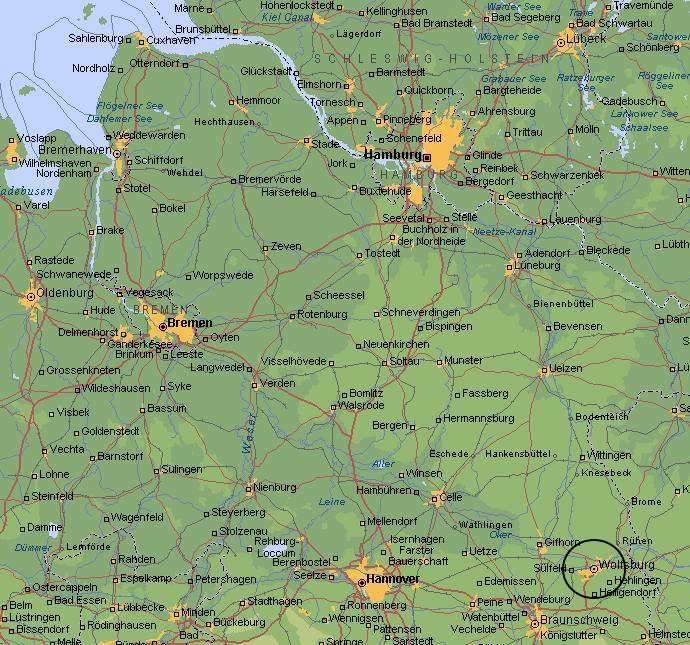 Many thanks to Ray McClure for submitting this target.

For more information on the tower, and the "Glass factory" which is associated with it, where the cars are made, take a look at the following sites:
Auto Speed
The German Car Blog
And, for more complete feedback, a paperbook book about the Autostadt and towers can be found at Amazon.com