TARGET 061227
Submarines Provide
Underwater Sightseeing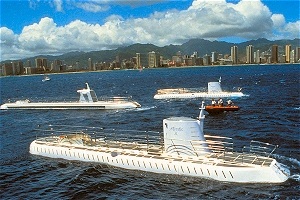 The Atlantis Fleet, Waikiki Beach, Hawaii


Atlantis's vessels are absolutely real submarines, the most technologically advanced of their kind. Each can carry up to 64 passengers to depths of 100 feet and beyond, and provide unobstructed, panoramic views of the undersea depths as the vessel explores this mysterious realm.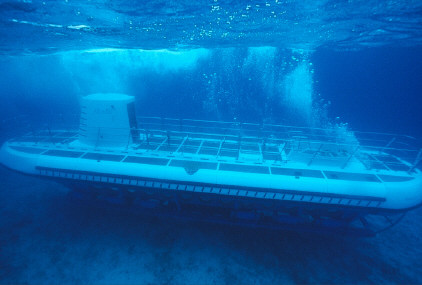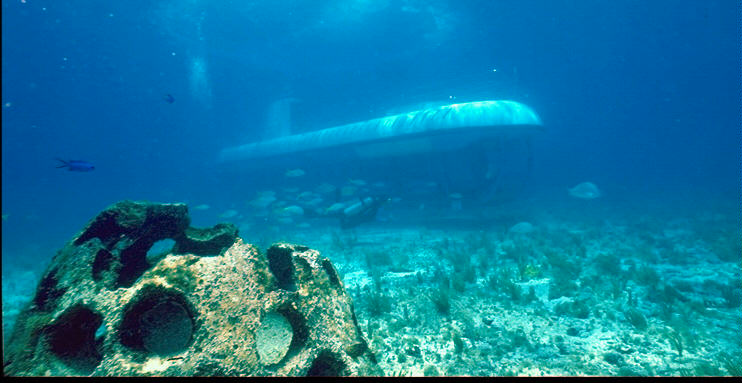 The sub gets underway.


The Atlantis Submarine Tour is the perfect family activity—it's like SCUBA diving without getting wet!

Each vessel is U.S. Coast Guard certified and approved. They feature extra large view ports that make every seat a front row seat, and include audio headset narrations in English, Japanese, Korean and Chinese.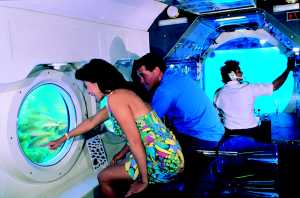 Sightseeing underwater...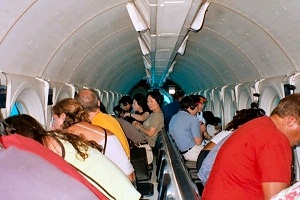 ...in a very confined space.


Atlantis Submarines International, Inc., has escorted more than seven million passengers on undersea adventures aboard its 28, 48 and 64 passenger submarines. Dennis Hurd, president and founder of Atlantis Submarines, helms an undersea fleet larger than that of many national navies. Last year the organization employed approximately 450 people, operating 11 tourist submarines at 9 locations around the world, taking over 750,000 people on undersea tours. Among Atlantis passengers are over 40,000 local school children, whose classes participated in the company's "Living Classroom" program.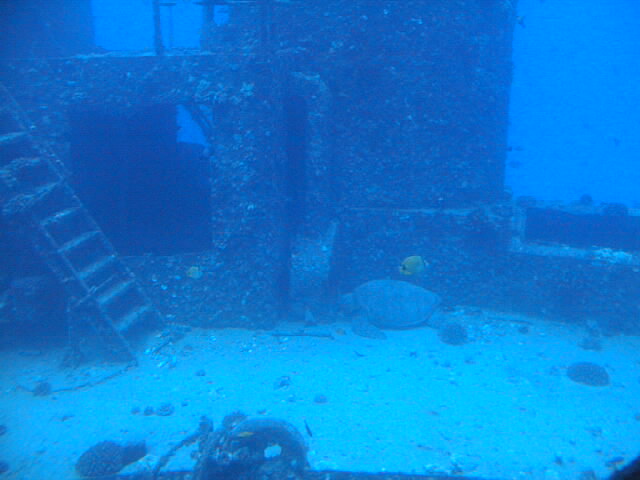 The underwater classroom....


...contains a school of its own.

A design engineer who once captained a 20-ton schooner from Nova Scotia to the Bahamas, Hurd came up with the idea of recreational submarines during his tenure at International Hydrodynamics ("Hyco"). Beginning with $250,000 in design and development money from friends and business acquaintances, Hurd completed preliminary drawings and market studies. He then went on to raise the millions necessary to build Atlantis I, his first battery-powered, non-polluting Atlantis Submarine, launching it off the coast of the Cayman Islands in December 1985.

The high-tech nature of the vessel, the air-conditioned, pressure-controlled cabin, and the underwater beauty of the reef made the attraction an instant hit, and the company expanded from there. Since its founding, Hurd has guided Atlantis Submarines through the whole spectrum of challenges that are involved in designing, financing, and building a unique vessel, having it approved by regulatory authorities and insured, moving it into production, developing operating systems, maintenance systems and training programs, and establishing operating sites around the globe.

Atlantis subs are now found at Grand Cayman, Barbados, St. Thomas, Aruba, Guam, Cozumel, and on the Hawaii Islands of Kona, Maui and Waikiki. The Atlantis XIV, which operates off Waikiki Beach, Hawaii, accommodates 64 passengers, spans more than 100 feet, and is the world's largest passenger submarine.

Information for this target was obtained from www.AtlantisSubmarines.Org , where you can get more feedback for perceptions you may have obtained in your session.

Our grateful thanks to Ray McClure who researched and provided this target.