TARGET 061129
WOMEN'S BEACH VOLLEYBALL
Women's Final from
the AVP Cincinnati Open
September 4, 2006

Misty May-Treanor and Kerri Walsh had quite a weekend in Cincinnati. The duo won the AVP Cincinnati Open presented by LiftOff, set the record for money earned in a season, set the record for most wins in a season and took home the inaugural AVP Crocs Cup title.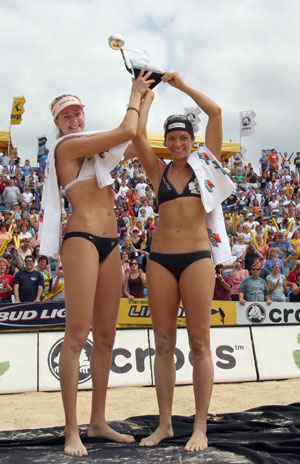 May-Treanor and Walsh faced Annett Davis and Jenny Johnson Jordan for the second consecutive week in the finals and unlike Boulder where the Golden duo swept their opponents by a large margin, May-Treanor and Walsh pulled off one of their toughest victories of the year on Sunday.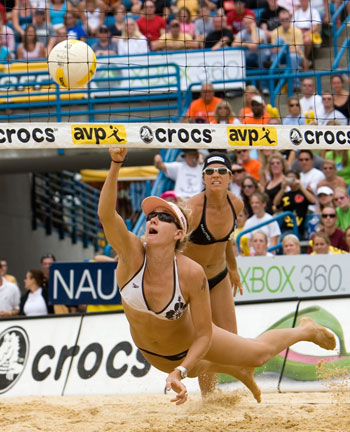 Davis and Johnson Jordan captured the first game 21-16. The duo played their trademark ball, touching everything that crossed the net. This extended rallies and placed May-Treanor and Walsh on the defensive. It may have also awakened the beasts as May-Treanor and Walsh came out firing in game two winning 21-13. In the third, Davis and Johnson Jordan grabbed an early 4-1 lead before May-Treanor and Walsh went on to win 13 of the next nineteen points to grab a 14-10 lead, before pulling off the 15-12 win.

May-Treanor and Walsh's season will clearly go down in the record books. They end the year having won 32 consecutive AVP matches and six straight tournaments. May-Treanor picked up her 67th career title tying her for second place all-time and just six short of resetting the world record held by Holly McPeak with 72. Each earned over $200,000 in prize money this year. Both earned their millionth dollar on the beach in 2006 and as probably suspected each reset the record for being the quickest to $1,000,000. As a team they earned both their 50th and 60th career team title, nearly double that of the second best duo. And Sunday they topped $2,000,000 earned as a team.

Ah! Victory is sweet!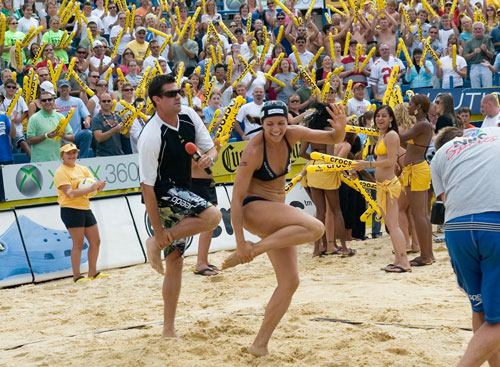 And so is the sandy beach volleyballer's victory dance.


Information for this target came from:
http://www.avp.com/

For more information about beach volleyball in the U.S., and for tons more feedback for your session, enter either "AVP" or "beach volleyball" into your search engine.


FEEDBACK MAP