TARGET 061108
The Ball Drop
in Times Square
on New Year's, 2006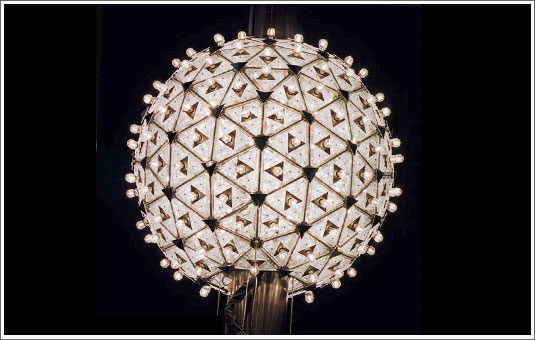 The ball


The current version of the Times Square New Year's Eve Ball, designed by Waterford Crystal, made its first descent during the last minute of the 20th century, at the Times Square 2000 Celebration.

The Ball is a geodesic sphere, six feet in diameter, and weighs approximately 1,070 pounds. It is covered with a total of 504 Waterford crystal triangles that vary in size and range in length from 4.75 inches to 5.75 inches per side.

For the 2007 New Year's Eve celebration, 72 of the crystal triangles feature the new "Hope for Peace" design, consisting of three dove-like patterns symbolizing messengers of peace. The remaining 432 triangles feature Waterford designs from previous years, including the Hope for Fellowship, Hope for Wisdom, Hope for Unity, Hope for Courage, Hope for Healing, Hope for Abundance, and Star of Hope triangles. These crystal triangles are bolted to 168 translucent triangular lexan panels which are attached to the aluminum frame of the Ball. The exterior of the Ball is illuminated by 168 Philips Halogená Brilliant Crystal light bulbs, exclusively engineered for the New Year's Eve Ball to enhance the Waterford crystal. The interior of the Ball is illuminated by 432 Philips Light Bulbs (208 clear, 56 red, 56 blue, 56 green, and 56 yellow), and 96 high-intensity strobe lights, which together create bright bubbling bursts of color. The exterior of the Ball features 90 rotating pyramid mirrors that reflect light back into the audience at Times Square.

All 696 lights and 90 rotating pyramid mirrors are computer controlled, enabling the Ball to produce a state-of-the-art light show of eye-dazzling color patterns and a spectacular kaleidoscope effect atop One Times Square. The New Year's Eve Ball is the property of the building owners of One Times Square.


The ball's history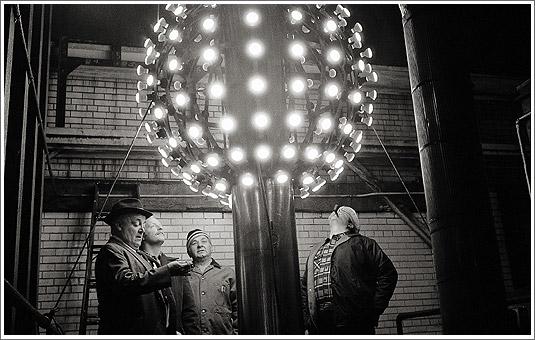 * 1904 - Revelers began celebrating New Year's Eve in Times Square as early as 1904.

* 1907 – The New Year's Eve Ball first descended from a flagpole atop One Times Square, constructed with iron and wood materials with 100 25-watt bulbs weighing 700 pounds (318 kg) and measuring 5 feet (1.5 m) in diameter. * 1920 – The Ball was replaced with an iron material Ball and weighing less than the original, only 400 pounds (181 kg).

* 1942 -1943 – The Ball has been lowered every year since 1907, with the exceptions of 1942 and 1943, when its use was suspended due to the wartime "dimout" of lights in New York City. The crowds who still gathered in Times Square in those years greeted the New Year with a moment of silence followed by chimes ringing out from One Times Square.

* 1955 – The Ball was replaced with an aluminum ball weighing a mere 150 pounds.

* 1981 – 1988 – Due to I Love New York campaign, red light bulbs and the addition of a green stem converted the Ball into an apple for the "I Love New York" marketing campaign from 1981 until 1988.

* 1989 – After seven years, the traditional Ball with white light bulbs and without the green stem returned to brightly light the sky above Times Square.

* 1995 – The Ball was upgraded with aluminum skin, rhinestones, strobes, and computer controls.

* 1998 – The aluminium Ball gets replaced.

* 2000 - 2006 – The Ball gets an overhaul for the new millennium celebrations with a design from Waterford Crystal and new technology. It weighs 1070 pounds (485 kg), measures six feet (1.8 m) in diameter and installed with 504 crystal triangles, illuminated externally with 168 halogen light bulbs and internally with 432 light bulbs of clear, red, blue, green and yellow colors. Each year there is a theme in the Waterford crystal concept with a particular chunk of designed crystals being called something, and in previous years there have been for example "Hope for Fellowship," "Hope for Wisdom," "Hope for Unity," "Hope for Courage," "Hope for Healing," "Hope for Abundance" etc. There are strobe lights and mirrors to create bursts of excitement and special effects for the audience.
* 2007 - The ball will remain as a Waterford Crystal ball as in 2000-2006 (described above), but will be lit by LED lights provided by Phillips instead of halgeon bulbs for the 2007 edition and all future years.

About "time balls"
The actual notion of a ball "dropping" to signal the passage of time dates back long before New Year's Eve was ever celebrated in Times Square. The first "time-ball" was installed atop England's Royal Observatory at Greenwich in 1833. This ball would drop at one o'clock every afternoon, allowing the captains of nearby ships to precisely set their chronometers (a vital navigational instrument).

Around 150 public time-balls are believed to have been installed around the world after the success at Greenwich, though few survive and still work. The tradition is carried on today in places like the United States Naval Observatory in Washington, DC, where a time-ball descends from a flagpole at noon each day - and of course, once a year in Times Square, where it marks the stroke of midnight not for a few ships' captains, but for over one billion people watching worldwide.


The Event
Each year, millions of eyes from all over the world are focused on the sparkling Waterford Crystal Times Square New Year's Eve Ball. At 11:59 p.m., the Ball begins its descent as millions of voices unite to count down the final seconds of the year, and celebrate the beginning of a new year full of hopes, challenges, changes and dreams.

For an interactive 360 degree view of the reveling in Times Square at New Year's, 2006, click here (and give it plenty of time to load - it is large).

Over a quarter of a million people go to watch the ball drop each year. Therefore, New York Police Department (NYPD) must have strict control over the crowd so as to prevent riots. The technique used by NYPD is dividing Times Square up into sections, commonly referred to as "pens." As people arrive, usually in the afternoon, people are directed into the pens. NYPD starts with the pens closest to 43rd Street, and as these pens get full, NYPD closes these pens to further people and works their way back toward Central Park. Once inside the pen, people may leave, but will not be able to reenter the pen.

Also, access to Times Square is extremely limited during the course of the celebration. Those staying in hotels in the area, such as the Doubletree Guest Suites, need to prove with NYPD that they are in fact guests at these hotels. Also, no alcoholic beverages are permitted (as per NYC's open container laws). Also, there are no portable public restrooms, so as to further discourage drinking before the celebration. Police patrol in the area during the celebration is extremely high, not only to greatly reduce the potential for riots, but also due to modern-day terror alerts.


Information for this target was gained from the following sites, which also have further information for your feedback.
http://en.wikipedia.org/wiki/Times_Square_Ball
FEEDBACK MAP