Target 061004
The Eiffel Tower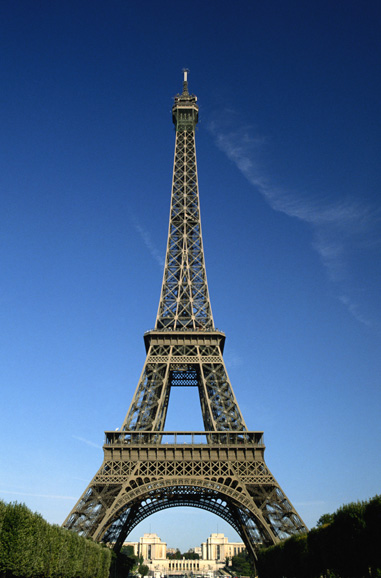 (From Wikipedia, the free encyclopedia.)
The Eiffel Tower is an iron tower built on the Champ de Mars beside the River Seine in Paris. It is the tallest structure in Paris and among the most recognized symbols in the world. Named after its designer, engineer Gustave Eiffel, it is a premier tourist destination.

Looking Down from the Observation deck



The tower stands 300 m (1000 ft) high, which is about 75 stories. Including the 20.75 m (70 ft) antenna, the structure is 320.75 m (1070 ft) high which is about 81 stories. At the time of its construction in 1889, the tower replaced the Washington Monument as the tallest structure in the world, a title it retained until 1930, when New York City's Chrysler Building (319 m/1063.33 ft tall) was completed (although the tower was still taller if the respective spires of the two structures were excluded). The tower is the second-highest structure in France, after the 350 m Allouis longwave transmitter, built in 1939. The Eiffel tower is the highest structure in Paris. The second-highest structure in Paris is the Tour Montparnasse (Montparnasse Tower), at 210 m.
The Eiffel Tower at night


The metal structure of the Eiffel Tower weighs 7,300 tonnes, and the total weight is 10,100 tonnes. The number of steps to the summit has varied over the history of the tower, through various renovations: at the time of construction in 1889, there were 1710 steps to the summit platform at 300.65 m; after renovation in the early 1980s, there were 1920 steps; and today there are 1665 steps (although it is not possible for the public to reach the summit via the stairs—elevators are required beyond the second platform).

Depending on the ambient temperature, the top of the tower may shift away from the sun by up to 8 cm (3.25 inches), due to expansion of the metal on the side facing the sun.

Maintenance of the tower includes applying 50/60 tonnes of three graded tones of paint every seven years to protect it from rust. On occasion, the colour of the paint is changed — the tower is currently painted a shade of brownish-gray. However, few people realize that the tower is actually painted three different colours in order to make it look the same colour. The colours change from dark to light from top to bottom, but it looks the same because of the background (the sky being light and the ground being dark). On the first floor, there are interactive consoles hosting a poll for the colour to use for a future session of painting.

FEEDBACK MAP
The Location: Paris France
To read more about the history of the Eiffel Tower, click HERE.


Many thanks to Ray McClure for developing this target.