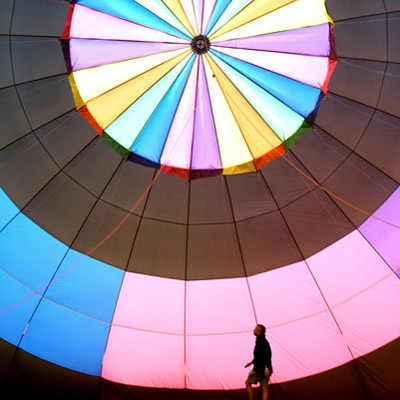 The Albuquerque International Balloon Fiesta is a yearly gathering of hot air balloon enthusiasts from around the world, occurring in Albuquerque, New Mexico, USA, during the first week of October. The event, the largest of its kind in the world, lasts nine days and includes a fleet of nearly 750 hot air balloons with pilots from throughout the United States and the world.


History


The balloon fiesta began as a small gathering of 13 balloons in 1972, but has grown each year since, and today is the largest balloon convention in the world. On any given day during the festival, up to 100,000 spectators may be on the launch field where they are provided the rare opportunity to observe inflation and take off procedures. Countless more people gather at landing sites all over the city to watch incoming balloons.


During the convention, several different events occur:


Mass ascensions, where as many balloons as possible are all launched at the same time.






Special shapes ascensions, where the non-traditional, uniquely shaped balloons are launched at the same time.


Night glows, where a large number of balloons are illuminated at night by their propane burners.


Several piloting, skill, and speed competitions.
The convention has also become a major showcase of New Mexican culture and history and features numerous cultural exhibitions. It is a major event for the city of Albuquerque, attracting tourists from across the state, the nation, and even the world. The fiesta is one of Albuquerque's largest tourist attractions and constitutes a major source of income for the city and local businesses. Typically, tourists and fiesta visitors take thousands of pictures of the balloons, so it is no surprise that for several years the fiesta was sponsored by Kodak and was given the title, the Kodak Albuquerque International Balloon Fiesta, though that title was usually only used in print ads and on official memorabilia. Kodak no longer sponsors the fiesta, and the official name has returned to the Albuquerque International Balloon Fiesta.

Part of the reason for the success of the Fiesta are the cool Albuquerque morning temperatures in October and the Albuquerque box. The "box" is a set of predictable wind patterns that can be exploited to navigate the balloons. At low elevations the winds tend to be northerly, but at higher elevations they tend to be southerly. Balloonists use these winds to navigate in a vertical box: they ascend slightly from the launch park, move south, ascend further, move north, descend, and repeat the box or land back in the launch park or quite nearby.

Balloon Fiesta Park from which the balloons are launched is located on the northern edge of the city. In 2005, the Anderson-Abruzzo Albuquerque International Balloon Museum was opened on the grounds, it recounts the last three decades of the convention as well as a general history of ballooning.


For more feedback information and videos of the various activities, click here


FEEDBACK MAP